Minute Maid Park Information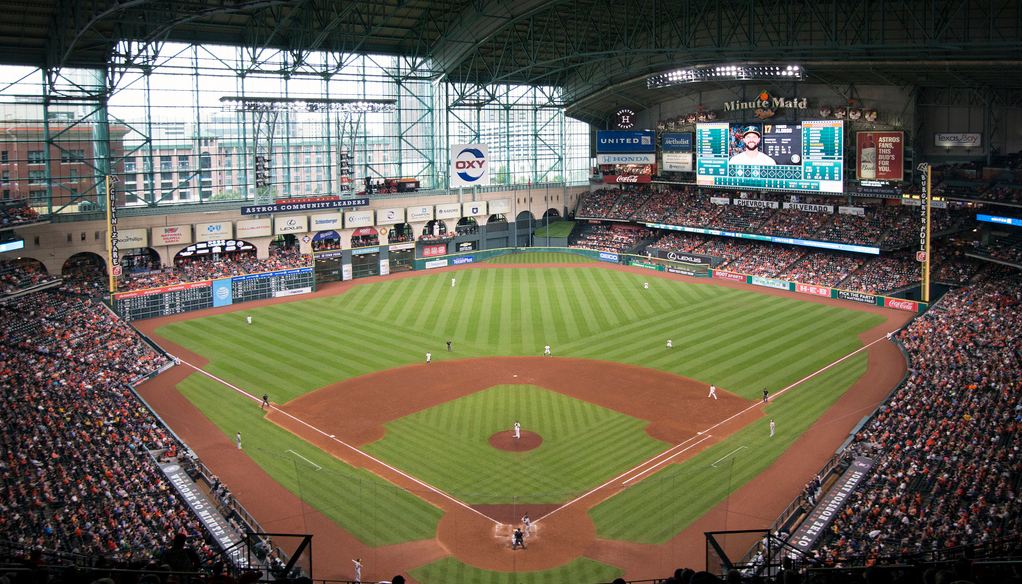 Minute Maid Park, previously known as The Ballpark at Union Station. Some of you may even know it as Enron Field and Astros Field. It is located in Downtown Houston, Texas and was opened in 2000 to house the Houston Astros of MLB.
The ballpark is Houston's first retractable-roofed ballpark and features a natural grass playing field. Theis stadium was built as a replacement of the Astrodome, which was built in 1965. Fans are most likely to find the name familiar as it is named after the beverage brand Minute Maid (a subsidiary of Coca-Cola Co.). The naming rights were sold in 2002 for $100 million over 30 years to Coca-Cola.
Initially, the ballpark was named "Enron Field" on April 7, 2000. The naming rights were sold to the Houston energy and financial trading company in a 30-year, $100 million deal. However, when the energy corporation went bankrupt in 2001 due to a financial scandal, Astros management faced a public relations problem. On February 5, 2002, Astros ownership filed a motion with the court overseeing the company's bankruptcy to force Enron to make an immediate decision on the matter, after refusing to prematurely end their contract with Astros. By February 27, the two entities agreed to end the naming rights. Astros paid $2.1 million to Enron to end their contract. As soon as the settlement was paid, the ballpark became officially known as "Astros Field".
During its days as Enron Field, it was also dubbed "Ten-Run" or "Home Run" Field. The nicknames were due to its cozy left-field dimensions. The stadium is sometimes known as "The Juice Box" as a homage to its current name sponsor.
The groundbreaking ceremony for The Ballpark at Union Station was on October 30, 1997. There were a lot of discussions and disagreements that happened prior to the building of the stadium. It was initially planned out of Downton Houston. However, in September 1996, they finally changed it to Downtown Houston, next to Union Station, where it is currently located. Union Station's main concourse was preserved and renovated as the ballpark's main lobby.
Early stadium sketches from Kansas City-based Populous (then HOK Sport) titled "The Ballpark at Union Station" were released to the public on October 11, 1996. Astros President, Tal Smith was vocal and open about his thoughts for the stadium. Some of his feedbacks included the location of the flagpole in center field and a traditional dirt path from the pitcher's mound to home plate. While the dirt path was not implemented, the flagpole idea became known as "Tal's Hill". It remained a signature feature of the ballpark until 2016.
In June 2015, the Astros announced that Tal's Hill would be removed in a major renovation project during the 2015-2016 offseason. It was to be replaced with additional seating, concessions, and escalators for fans. This renovation would result in center field dimensions of 436 feet (then the longest in MLB) reduced to 409 feet. In addition, seating sections 256, 257, and 258 in the outfield mezzanine would also be removed. Despite some postponement, the renovation was completed during the 2016-2017 offseason.
After multiple alterations, by 2016, Minute Maid Park has a seating capacity of 41,168, which includes 5,197 club seats and 63 luxury suites. The stadium has also hosted other non-baseball events such as soccer, boxing, cricket, and concerts. Megastars like Madonna, Taylor Swift, Paul McCartney, Beyonce, and Jay Z have performed in Minute Maid Park.
Historic Moments
Some of the major events that took place in Minute Maid Park since its opening is as below:
On October 9, 2005, Minute Maid Park hosted the longest post-season game in MLB history to date, both in terms of time and number of innings. The Astros defeated the Atlanta Braves with a score of 7–6. The game lasted 18 innings, which took 5 hours and 50 minutes to play. Game 3 of the 2018 World Series beat the record by going 18 innings and lasted 7 hours and 20 minutes.
On October 25, 2005, Minute Maid Park hosted the first World Series game ever played in Texas, and the longest World Series game ever played. Unfortunately, the Astros lost to the eventual World Series champion Chicago White Sox 7–5 in 14 innings. This particular game lasted 5 hours and 41 minutes. Furthermore, on the following night, the White Sox won their 3rd title and first in 88 years at Minute Maid Park.
On September 30, 2007, Craig Biggio's played the last game of his career in Minute Maid Park. This game hit the highest attendance in its 8-year history by selling 43,823 tickets, 107% of its capacity.
On April 5, 2010, Opening Day of 2010, Minute Maid Park surpassed its highest attendance total once again by selling 43,836 tickets.
Astro pitcher Mike Fiers threw the stadium's first no-hitter in a 3-0 victory on August 21, 2015.
For more information on the Minute Maid Park, please see the specific pages below.
Parking Information:
Arriving by car? Read about parking options on the  Minute Maid Park parking information page.
Ticket Policy:
For information on ticket guarantee and other ticket related questions, view the Minute Maid Park tickets page.
Seating Information:
For information on accessible seating and to view the Minute Maid Park seating chart page.